"This place must be e
nchanted!" …
a happy guest

     We are a boutique Texas winery with an in-winery bistro, party and event areas, and Caris' Art Studio and Gallery.  We are family owned and run by Caris and Terry Turpen.
     • Wine tasting is done in our Tasting Room and is relaxed, informal and fun.  10- gets you a tasting five wines; you can add on to that as you like.
     If you have a group of 10+ folks, we do your tasting at a specially set table as a privately guided tasting of five wines for 15- per person.  Please call to reserve a group tasting.
     • Our Gift Shop sells a variety of wine accessories, and features Caris' fine art and jewelry.
     • LightBites dining with weekly specials is offered Fridays  5 – 9, Saturdays 12 – 9 and Sundays 12 – 3.  Our menu offers a variety of items from appetizers, salads, sandwiches and specials such as Seared Duck Breast and a New York Strip Steak.  All of our dishes are created to pair with  our wines.
     Chef Caris and her team cater in-house wedding receptions, showers, parties and private dinners. She also puts together themed Winemaker Dinners that feature new wine releases, fine food and entertaining stories.
     • We are part of the Cross Timbers Wine Trail, which has several wineries on the western edge of the DFW metroplex.  Go to the CTWT website to buy an open Wine Trail ticket, good for tasting wines at each of the wineries as well as receiving a Reidel crystal wine glass with each ticket purchase.
     • We host Jazz Sunday on the first Sunday of most months, March through October.
     • Caris' Art Studio is housed in the winery.  Her available artwork is for sale, and she is happy to discuss custom orders and commissions.
    See our Calendar for a list of activities and related information.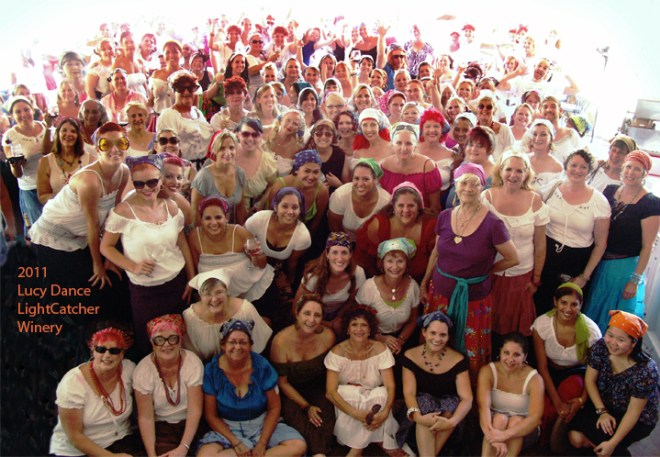 Caris Turpen
Winemaker • Executive Chef • Artist


Caris is a creative person.  She was involved in the film industry for a long time. She started winemaking as a hobby when she was working as Visual Effects Supervisor on the TV series WISHBONE (for which she won a Daytime Emmy™ ), as a way to have a little fun making something she enjoyed. (WISHBONE was shot in Plano and Allen, north of Dallas).  An interest blossomed, a passion developed and a talent emerged.   She went back to school for a degree in Enology (winemaking) and Viticulture (grapegrowing).  She made wines from grapes she picked in various Texas vineyards and then worked for a commercial winery.
     She and Terry saw it was possible to start their own little winery.  She brought her culinary skills to the winery kitchen and later went to the Culinary Institute of America at Greystone/Napa to train further.  She and Terry love the sensory experience of wine and food and the emotional and spiritual experience of sharing these with friends.
     Currently Caris is concentrating on finishing and bottling all of our barreled wines, and is actively sculpting, painting, and writing as she makes a shift into full time creative pursuits.
"Winemaking is Art and Science,
stirred by Mystery." – Caris Turpen
Terry Turpen
Host • Wine Cocktail & Cigar Specialist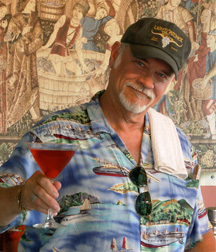 Terry likes people and loves good conversation.  He is a natural teacher and loves to explain the wine making process.  You'll often find him greeting guests as they arrive for dinner, a glass of our Cabernet and a fine cigar in hand.  He put himself through college tending a wine/beer bar in Commerce, Texas and knows how to talk to the many types of folks that come thru our doors.  He wants everyone to feel welcome.
     Terry's martini shaker and bar ware collection is on display in the Barrel Room.  At home he makes a mean martini, which, after some days, we really need.
"I want every guest or customer
to leave with a smile on their face." – Terry Turpen
The LightCatcher Mascot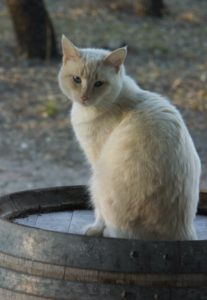 Chai was a stray kitten who adopted us – we took her in and the winery was her home for her many years of beautiful life.  Our HAPPY CAT wine is named after and labeled with her image, taken while she was watching the sunset from her favorite wine barrel perch. She left us one day and we remain with our love of her wise, gracious and charming spirit and gratitude for the time we had with her.  The HAPPY CAT brand continues in her honor.
     We support animal fostering and adoption.  Chai and our home kitties and dogs are all rescues who found their way to a loving home – most are not so fortunate.   Spay/neuter your pet and help them live a long and healthy life, and avoid adding to the unwanted pet population.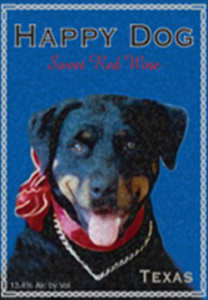 We are DOG FRIENDLY on the Arbor, Terrace and Pavilion.  Dogs must be leashed at all times.  We will happily provide your pooch with water and maybe even a cookie.  Of course service animals are welcome everywhere, any time.
---
Come Enjoy Texas Wine Life with Us

LightCatcher Winery
tasting • dining • art • events
Fort Worth, Texas
817-237-2626
---