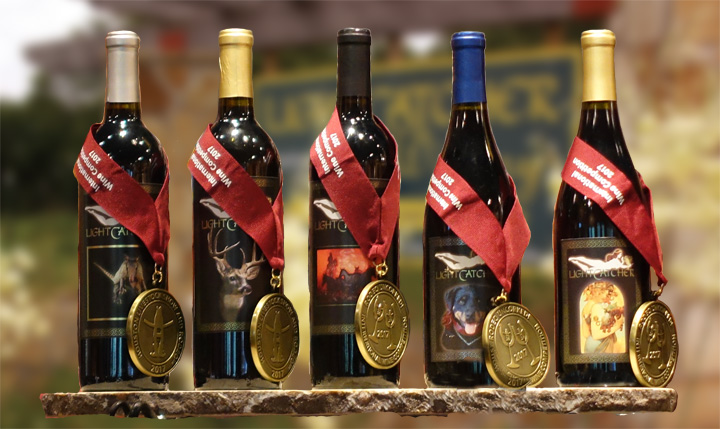 We started commercial winemaking in 2001 making just three wines – a Chardonnay, a Merlot and a Cabernet Sauvignon.  Over the years different vineyards have presented us with opportunity to expand our wines so we can offer more styles, please more palates and show a variety of wine and food pairings.  We currently use fruit grown on the High Plains of west Texas, the Hill Country, south Texas and from just up the road in Springtown.
Wine Tasting
     At the Tasting Bar – 5 wines for $10 per person
Wine tasting is offered any time during our open hours.  Relaxed and informal, you select any five wines from our wine list of 13-15 wines.  Of course you can taste more than the five wines – add on as many as you wish for $2 each.  We also have a separate Dessert Wines list that costs $3 per taste.  If you come during our dining hours you can be seated for dining afterwards and then order what you liked with your meal.  You do not need to make a reservation.
     At Table – Groups of 10+ – 5 wines for $15 per person, plus gratuity
If you have a group of 10 or more people we do a tasting of five wines at a seated table.  Your host can select the wines to pour or we can choose based on the dominant interest of the group.  If the tasting is done during our dining hours you can also arrange for food during or afterwards at the same table.   Yes, we need a reservation for seated group tastings – please call.
     There's seating in the Tasting Room and more in the adjacent Barrel Room and outside Pavilion & Terrace.  The atmosphere is elegant/rustic and we always have candles and fresh flowers on the tables, pretty music on the sound system and welcoming staff that will help you feel comfortable and relaxed.
We sell out of something, we bottle something else….
it's always changing.  Come see what we have to offer.