Winemaking
---
     Winemaking is an art blended with science.  We've been making wine for almost 20 years.  Archeologists have found jugs that held wine that date back 6,000+ years.  Using DNA testing, the scientific wine community has been able to find the source of most wine grapes – from Georgia (just south of Russia) to Syria, and on over to California.  Wherever there are grapes, wine is sure to follow.
     Are you curious about the process?  It's pretty simple – organic chemistry does all the work although it's up to each winemaker to figure out when to do what.  We'll be loading up snaps from our winery at some point.  In the meantime, here's a fun diagram that gives home winemakers an intro into the process.
Salud!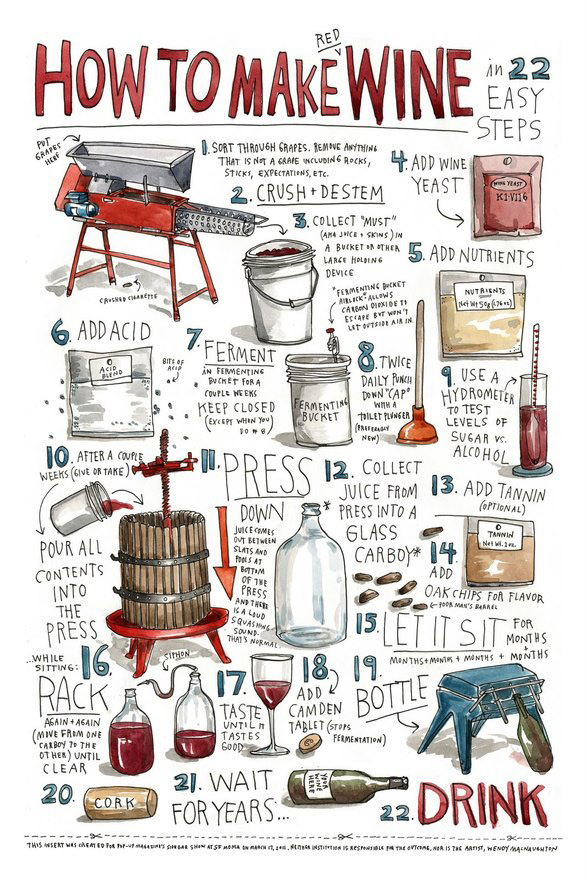 Helpful Links
Folks often come to us looking for resources on growing grapes or making wine here in North Central Texas.
Here are some links to help in your research.
TEXAS WINE INDUSTRY PORTAL

Education & Research
• Texas Wine Grape Network – http://winegrapes.tamu.edu
• Texas Ag & Enology & Viticulture Workshops http://agrilifevents.tamu.edu/
• Texas Wine Marketing Institute – http://www.hs.ttu.edu/texaswine
• Pierce's Disease & Education Program – http://pd.tamu.edu/
• Texas Wine & Grape Growers Association – http://www.txwines.org/
• TV Munson Viticulture Enology Program at Grayson Community College – http://tvmunson.org
• Texas Sommelier Conference – http://texsom.com
Discover Texas Wine
• Cross Timbers Wine Trail – North Central Texas – http://www.crosstimberswinetrail.com
• Texas Hill Country Wine Trails – http://www.texaswinetrail.com
• Texas Bluebonnet Wine Trail – http://www.texasbluebonnetwinetrail.com
• Grapevine Wine Trail – http://www.grapevinewinetrail.com
• Way Out Wineries Wine Trail (WOW) – http://www.wayoutwineries.org
• The Food and Wine Foundation of Texas – http://www.winefoodfoundation.org
• The Wine Society of Texas – http://www.winesocietyoftexas.org
• Texas Wine Marketing Assistance Program – http://www.gotexanwine.org
Vineyard Rural Economic Development Texas Department of Agriculture
• A Guide for Prospective Growers – "Starting a Vineyard in Texas" published by Texas Department of Agriculture (this link is a downloadable PDF booklet)
• Grape Investment Pilot Grant Program
• Interest Rate Reduction Program
• Young Farmer Loan Guarantee Program

Listserves
• Texas Winegrowers List Serve – http://groups.yahoo.com/group/Texas_Winegrowers/
• Non Commercial Wine Makers List Serve – http://tech.groups.yahoo.com/group/Texas-Home-Winemakers/
• The North Texas Wine Maker's Guild List Serve – http://groups.yahoo.com/group/NTXWINEMAKERS
Government Agencies
• Alcohol and Tobacco Tax and Trade Bureau (Federal) – http://www.ttb.gov
• Texas Alcohol Beverage Commission (State) – http://www.tabc.state.tx.us