Winery Dinner Party
---
Business • Rehearsal Dinner • Birthday • Anniversary

Small Wedding & Dinner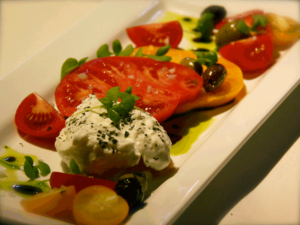 A Winery Dinner Party is available Friday and Saturdays evenings for up to 30 guests.  (The winery will be open for regular dinner service to other guests.)
A Private Dinner Party is available Wednesday thru Sunday evenings (exception of Jazz Sundays) for a minimum of 30 and maximum of 60 guests.  The winery will be closed to other guests.  This party allows a 2-3 hour time frame and is not available for wedding receptions.  Please discuss your party plans with us.  If you have a larger event in mind, please have a look at our Private Winery Rental.
A Small Wedding & Dinner is available on Friday and Saturday evenings up to 30 guests.  (The winery will be open for regular dinner service to other guests.)
••••••••••
Food:  Choose your dishes from our Party Menus in consultation with our Chef and Manager.  Ordering a minimum of one main course per person with a guaranteed guest count will apply to all dinners.  (Your guests will need to pre-select their main course choice for some items – please allow yourself time for this process.)
Wine:  We require a minimum purchase of one bottle for every three guests (eg: 30 guests requires a 10 bottle purchase).  Additional wine may be purchased during your event.
For Private Dinner Parties only: if two cases (24 bottles) of wine is purchased,  beer and/or spirits may be brought in, subject to all TABC service regulations and additional bartender fees.  Please call for more information.
Room Charges:
Private Dinner:  $500
Winery Dinner or Wedding Dinner:  We can seat up to 16 guests in the Barrel Room for no extra charge.  Groups of 17 – 30 will be seated on the Pavilion.
If you would like the Barrel Room for a group of 17 – 30, a $500 room charge will apply.  (Other winery guests will be seated on the Pavilion and Terrace.)
•••••••••••
 Small Wedding & Dinner:
• Use our 'cave' as a final-touches dressing room for the bride.
• Use our Wedding Lawn for your ceremony, with chairs, arch and planters.  (Rain backup is on our Pavilion.)
Because we are also serving other guests, for the best experience possible we offer you this time frame:
Guests Gather 6:00 – 6:30
Ceremony 6:30 – 7:00
Dinner: 7:00 – 8:30
Costs:
$300 Wedding Fee
Food and Wine charges
Room charge if applicable
•  Please be aware this is not a private rental and other guests will be in the winery.  Your party will be seated together although other winery guests may be nearby.  You may bring in centerpieces for your tables but no other decorating is permitted.  If you would like to do more decorating, have complete privacy, do traditional reception activities like dancing or private music or have more time for your event, please see our Private Winery Rental.
••••••••••••
When you arrive, all you have to do is relax and enjoy – we do everything needed from start to finish to ensure you an exceptional food and wine experience.
Give us a call to check your date availability and discuss your party.
A $100 deposit (which is applied towards your total) will reserve your date.