Winery Luncheon Party
---
Birthday • Club Meeting • Bridal or Baby Shower
Small Wedding Luncheon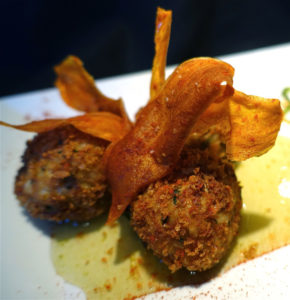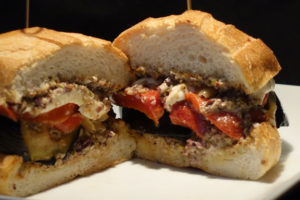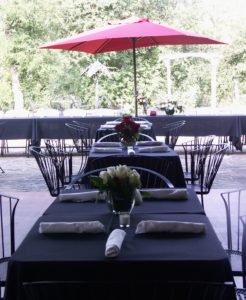 Have a festive and pretty luncheon get-together.
Winery Luncheons are available Saturdays and Sundays (exception of Jazz Sundays) for up to 50 guests.  Reservations for 13+ guests, or groups of any size that want the full accommodations of dressed tables, full service, and the extra time for your party are only done as this type of party.
2 – 24 guests: Hosts may choose any appetizers and up to three main items from our LightBites menu to offer their guests, who select what to have when they are seated.  (See our LightBites Menu for ideas here.)
25 – 50 guests:  Buffets are created in consultation with you and our Chef.  Per-plate prices for buffets begin at $16 per person.  Buffets require a guaranteed number of guests (ages 8 and older are counted.)
You can pre-select wines to serve to your group or allow your guests to order from the wine & beverage list.
Seating is inside the Barrel Room or on the Pavilion, weather and party-size dependent.
Cost: $20 per person minimum food and wine guarantee, plus tax and 20% gratuity.
*This is not a "package".  Your final per person cost is determined by your food and beverage choices.  If your total bill does not meet this minimum an additional wine or food purchase will be required – you may choose wine to take home.
The host is responsible for the check – we do not do individual checks for groups larger than 8 guests.  (We are happy to split the check evenly between 2-3 people.)
You can order a cake thru us with a one week lead time.  Or, bring in your own cake for a $2 pp cake service charge.  No other food or drink may be brought in.
A $100 deposit (which is applied towards your bill) will reserve your date.  This deposit is non-refundable but is transferable to other dates within 6 months.
Give us a call to see if your date is available and how we can help you.
Small Wedding Luncheon
On Saturdays and Sundays (exception of Jazz Sundays) we offer the Small Wedding Luncheon for up to 24 persons.
Included:
• Use of our 'cave' as a final-touches dressing room for the bride if needed.
• Use of our Wedding Lawn for your ceremony, with chairs, arch and planters.  (Rain backup is on our Pavilion.)
• Luncheon for a maximum of 24 persons.  Your plated lunch is created in consultation with Chef and is drawn from our Party Menus.
Because we are also serving other guests, for the best experience possible we offer you this time frame:
Guests Gather 1:00 – 1:30
Ceremony 1:30 – 2:00
Luncheon: 2:00 – 4:00
•  Please be aware this is not a private rental and other guests will be in the winery.  Your party will be seated together although other winery guests may be nearby.  You may bring in centerpieces for your tables.  If you would like to do more decorating, have complete privacy, do traditional reception activities (dancing etc.) or have more time for your event, please see our Private Winery Rental.
Costs:
$300 Wedding Fee
$ Lunch and beverage selections, plus tax and 20% gratuity.
Please give us a call to inquire about date availability.
•••••••••••••••••••••••••