UPDATED JULY 20 2017

We are closing our winemaking operations and selling all of our winemaking equipment. (We are remaining in business to sell our wines.)
Equipment you may have previously seen listed that has been sold:
Glycol Chiller system  Must Pump  Crusher/Destemmer  Broken Crusher/Destemmer  Tank Agitator  Shrink Capsuler   2 1KL tanks   1 500L tank   2 2KL tanks   1 3KL tank   RACE Labeler   Bottle Filler   Plate & Pad Filter   Capsule Spinner   Corker   Hydraulic Press  W65 Bottles Various Capsules  SSBarrels
4900L / 1293g  Variable Capacity Tanks – 2 available SALE PENDING, please inquire if interested
NON JACKETED  Excellent Condition
each tank includes:
Conical bottom, lid lift pully, upgraded rubber lid gaskets, air pump, 2 2″ ball valves (one on racking port, one on bottom port), manway door, sample valve, metal feet, sight glass.  8′ high at top rim, 9.75′ at top of arm.
(Seldom available/hard to find – $8500 new plus valves, tax and shipping)
$6000 each, includes two ball valves, upgraded gaskets ($400 value per tank)
PORTA TANKS
Industry standard 274g caged porta tanks with ball valve.
3 available
$150 each

Used Barrels – some maintained for future wine, some decorative use only – Barrels are American XFG, medium+ toast, toasted heads, all totally NEUTRAL – you will need to chip these barrels for wood notes, see the Barrel Chip Infusion Tubes below.  Barrels $150 each, regardless of type.  If you want wine-use barrels, all my barrels have been emptied and SO2'ed heavily, but they will need to be soaked up and cleaned before use (steam and ozone recommended). I have been tested NEG for Bret.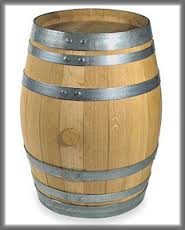 Barrel Chip Infusion Tubes – 15 available  $25 each

Two-Barrel Racks


8 available – Powder Coated Low Profile (4″ lift space), angles spaced 13″ apart, to fit up to 60g barrels – $50
6 available – Powder coated low profile (4″ lift space), angles spaced 9″ apart, for poly drums or 55g or smaller barrels – $20
50g Blue Poly Food-grade open head (with locking rim clasp) barrels and closed head/bung barrels – 8 available, $20 each

Two bottle TCW Rinser-Sparger
Very good condition.  Connections for gas (your choice of type – Nitrogen, Argon or CO2) and water, connection for drain hose.  This unit starts with a 3 second water rinse cycle (rinses case dust out of the bottles) and then automatically switches to a 3 second sparging cycle to fill it with gas (so the wine won't come into contact with O2 when wine flows into it from the bottle filler.)  Works perfectly; some cosmetic wear, one dented corner.
$1500  ($2599 plus tax and shipping new from TCW)

BOTTLES:
FRENCH CHAMPAGNE BOTTLES
Full, unused pallet of 77 cases of French 750mL champagne/sparkling bottles with 26mm crown or 26mm cork and cage finish.
Case code: 5189 AT / 12 bottles/case, 77 cases on pallet

• Maximum pressure 5 bar
• Bottle height 11.9″ x diameter 3.5″
Must take all.  Purchased for $1300, selling for $500.
EBULLIOMETER
Salleron-Dujardin
Mint condition
For testing the boiling point of liquids to determine alcohol content.


$750
MISC FACILITY EQUIPMENT
60″ Round Folding Tables, LIfetime brand, excellent condition – 7 available
$75 each
90″ round tablecloths – top quality white cotton/poly
$15 each
Laurastar 760-S3 Ironing System, Excellent Condition
$950
TRUE 27″ Single Door Reach In Refrigerator, Very Good Condition
$1300
______________________________________________
please call 817-237-2626 to discuss, ask for Caris.