You're seated in the Barrel Room (inside), Pavilion (covered, protected outside) or Terrace (open flagstone with umbrellas).
Our atmosphere is rustic/elegant or 'upscale casual'. Suggested attire is also upscale casual. Children are welcome with adult attendance. Leashed dogs are welcome on the Pavilion & Terrace.
Appetizers 5 – 10   Salads 5 – 16   Mains 12 – 34   Desserts 5 – 9
($$)
LightBites

Always Available & Chalkboard Specials

Starters

Buttermilk Onion Strings

Crispy onion strings; smoked paprika mayo

Garlic & Lemon Hummus

Feta, olives, roasted sweet pepper; toasted pita bread

Warm Brie & Sauteed Mushrooms

Melty French brie topped with sauteed mushrooms, roasted garlic, caramelized shallots and herbs, topped with crunchy onion strings. Served with toasted focaccia.

Pomme Frites

Bucket of thin, crispy French fries with salt and herbs; chef's ketchup

Crab Cake Appetizer

Mildly spicy 4 oz crab cake with jalapeno jelly & smoked paprika mayo; onion strings garnish

Flatbreads

Chef's special toppings on a chewy flatbread Specials may be offered, or choose from these favorites: TUSCAN: Sausage, mushrooms, caramelized onions & mozzarella on our tomato/roasted pepper sauce. NAPA: Mozzarella, basil pesto, asiago, caramelized onions, grilled chicken, artichoke hearts, fresh tomato.

Greens

White Goddess Lunch Salad

Mixed field greens lightly tossed with our White Goddess dressing, feta crumbles, Bistro Pecans & dried cranberries; grapes, toasted focaccia
Add a Grilled Chicken Breast
Add a Crab Cake

Side Salad

White Goddess or Ranch

Mains

Crab Cake Sandwich

Half pound of crab cakes on a toasted French roll with housemade tartar sauce, fresh tomato and greens; grapes.

Bacon & Chicken Sandwich

Crispy bacon, grilled chicken breast, toasted French roll, mayo, tomato, field greens; grapes

Seared Pacific Diver Sea Scallops

seared scallops, asiago risotto, roasted asparagus, crispy shaved sweet potato, scallop butter

Fancy Fish Special

Might be seared sea bass, grilled ahi tuna or other fresh ocean fish, served with sides and sauce..

Seared Duck Breast

seared, sliced breast on sweet potato risotto, sautéed snap peas, raspberry demi glace

Grilled 16 oz Rib Eye

Rib eye grilled to order, with roasted potatoes, roasted asparagus, fresh tomato, onion strings and demi glace.

Burgers:

Classic

1/2 lb. Angus beef patty on a toasted brioche bun w/greens, tomato, mayo, ketchup, red onion. Swiss, cheddar and bacon available.

Jazz

1/2 lb. Angus beef patty on a toasted brioche bun w/ blue cheese/cream cheese spread, caramelized onions & field greens.

Veggie

1/2 lb. chipotle, black bean & corn patty on a toasted brioche bun, classic or jazz style.

Desserts

Glazed Donut Bread Pudding

salted caramel sauce & vanilla bean ice cream

Massive Warm Brownie Attack

Huge triple-chocolate brownie, warmed, and served with chocolate ganache, caramel sauce, your choice of ice cream.

Fancy Cheesecake

Tall NY-style cheesecake topped with your choice of chocolate ganache, salted caramel, or raspberry sauce.

Ice Cream

We feature Henry's (Plano, Texas) Handmades: Vanilla Bean • Dark Chocolate • Cinnamon

Catering

Chef Caris and our kitchen and service team does the planning, preparation and service for on-site events. We have hosted luncheons and dinner parties of all sizes and types, for from 20 – 200. Our Winery Parties page explains about the amount of people we can seat, timing, facility costs and more. The images following are examples - we can do anything you want.

Baby Romaine Caesar Salad

Deviled Eggs with smoked salmon, creme fraiche & caviar

Seared Pacific Diver Sea Scallops
We started commercial winemaking in 2001 making just three wines –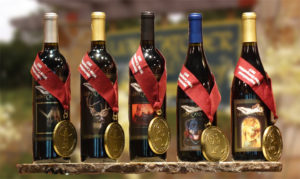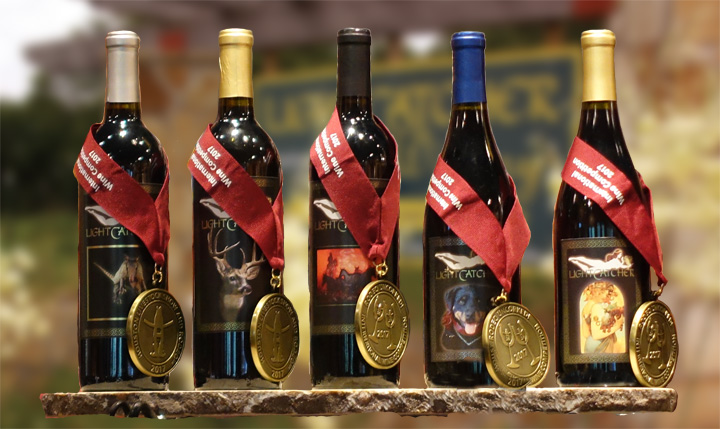 a Chardonnay, a Merlot and a Cabernet Sauvignon.
Over the years different vineyards have presented us with opportunity to expand our wines so we can offer more styles, please more palates and show a variety of wine and food pairings.
We currently use fruit grown on the High Plains of west Texas, the Hill Country, south Texas, and from just up the road in Springtown.
White Wines

Zonin Prosecco

Italian sparkling wine, by the 187mL glass or 750mL bottle

Pedernales Viognier

Lightly oaked Texas viognier; available by the glass or bottle

Mirassou Moscato

Candied floral and fruit - sweet and pleasing; available by the glass or bottle

Whitehaven Sauvignon Blanc

Marlborough, NZ - very citrusy and lightly grassy; available by the glass or bottle

Storypoint Chardonnay

Lightly oaked California Chardonnay; available by the glass or bottle

Texas Kiss - Merlot Rosé

Dry, crisp and fruity with Texas-sized 'kisses' of flavors – cherry, apple, cranberry and strawberry. It's perfect on the patio on a hot day, paired with BBQ and Mexican food and, believe it or not, sushi! It delivers a lot of flavor in a lighter wine. It's like a jewel in the glass, rosy and clean. Caris' lip print adorns the label. Come get a Texas kiss!

Red Wines

10 Pt Cabernet Sauvignon

2012 Newsom Vineyard Texas High Plains Appellation Full bodied plum, black cherry, raisin, fig, tobacco, spice…. exceptionally smooth and rich, complex and delicious. Barrel aged for 3 years in a mix of American and French oak.

DillaNillo

2015 La Buena Vida Vineyard Texas This is a true Texas Tempranillo, showing just what this grape can do here. Grown just up the road in Springtown, Texas, these grapes and their barrel aging give us flavors of cherry, anise, cedar and vanilla

Red Fox Merlot

2012 Newsom Vineyard Texas High Plains Appellation Light color leads to mouth filling flavor of bright cherry, oak and bramble with a black walnut finish. Similar to an Italian Amarone. Winemaker's fave.

Remuda Red

2014 Texas High Plains Appellation Simply delicious, this blend of Tempranillo, Cabernet Sauvignon and Merlot shows deep dark berry and cherry flavors with undertones of vanilla, cedar and warm spices. Very fruit forward and friendly – great couch wine.

Happy Dog

Texas Sweet Red Wine A delicious, fun, sweet red wine – a runaway best seller and multiple GOLD MEDAL winner. Sweet but not too sweet with deep flavors and an unexpected complexity for a less expensive sweet red. Flavors of cherry, caramel, brown sugar, and plum. Pairs great with hot, spicy foods – the sweet balances heat. Named for our dog, Mai, who, when Caris was a home winemaker, loved to lick her arms clean after she'd been working with fermenting wine – she'd sit with such a look we'd say, 'Aren't you a happy dog!'. Now you can be too.

Autumn Spice

Texas soft red blend spiced with cinnamon, nutmeg, mace, orange peel and clove - drinkable cool or warmed up as a mulled wine.

Dessert Wines

Summer Sangria

Texas Table or Dessert Wine Infused with peaches and apples and lightly fortified with fine brandy, this sweet red is a perfect Texas sangria that sits you squarely in a peach orchard surrounded by grapevines on a warm summer day. Often served over crushed ice for a true sangria experience.

Laughing Goddess

Texas Dessert Wine - Tawney Port We grow some Black Spanish grapes at the winery – our vines produce enough fruit to make this wine. Barrel aged, fortified with fine brandy and sweetened to a full bodied port level, it tastes of black cherry, plum, a bit of bramble and vanilla. Offered in 500mL bottle and 750mL bottle

Amour de Chocolat

Texas Dessert Wine This is a port-style dessert wine that is infused with dark chocolate – it tastes like a chocolate cherry cordial candy. It's a fabulous dessert all by itself – no need to gild the lily. Offered in 375mL bottle and 750mL bottle

Wine Cocktails

Bellini

Frozen sweet peach slushy & white wine

Kissini

Bellini & Texas Kiss

Redini

Bellini & Remuda Red

Mimosa

Prosecco & Fresh OJ

Poinsettia

Prosecco & Cranberry Juice

Kir Royale

Prosecco & Raspberry Liqueur

Orchard Sparkler

Prosecco, Sparkling Cider, Hazelnut Liqueur

Cosmopolitan KISS

Texas KISS, cranberry juice & sweetened lime, in a sugar rimmed martini glass with a cherry